Join TUNA's OrgSync Page for the latest news and events.
View photos and details about past events on our Facebook and Instagram pages, as well as these pages: Past Outreach Events and Past Student Activities.
Upcoming Outreach Events (Spring 2019)*
Brain Bee – February 2
Boys at Tulane (BATS) – February 9
Girls in STEM (GiST) – March 30
*Email Jenna Bates (jbates4@tulane.edu) for more information.
Upcoming Student Activities (Spring 2019)*
Research Talk – February 21st, 8pm in Boggs
Brain Awareness Week – March 11th-17th
Breakfast with Beth Wee – March 13th, 9am in The Brain Institute Conference Room Flower 200
Brain Awareness Week Panel of Graduate School Students – March 14th, 8pm, Boggs 104
Student Faculty Dinner – TBA
Featured Speaker – TBA
Brain Awareness Week 2019 Activities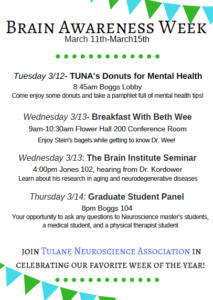 *Email Tessa Lavorgna (tlavorgn@tulane.edu) for more information.